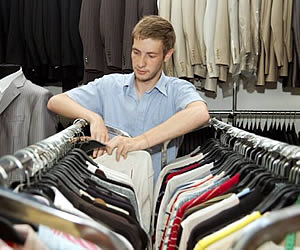 Few decades back, men fashion was not that much popular among males but with the passage of time men have also become about their fashion and style as every person on this planet has a desire to look beautiful and stylish.
Men's fashion or styles lies in their dressing of clothes and hair a lot. If a person wearing stylish and colorful outfit, with a marvelous hairstyle then we will say that how stylish this guy is! Few years back, there was only white shirt with navy suit for office going men or you can say that there were specific colors for men to wear. But today, we see a large collection of colors and patterns for men. The colors and patterns are totally unique that made men look stylish and decent as well. Now the trend has changed and we have different color and patterns collection for different occasions. All the light colors are acceptable in office wear.
You are not restricted to wear the colors that suit your skin tone. Some people think that pink only belongs to girls and men can't wear this color but this is totally a wrong concept. If pink suits you then you can wear this color in dress shirt or in T-shirt as well. In summer, light colors are best to wear as they are bad absorber of heat. You feel relaxed and comfortable in light colors. The case is opposite in winter, you can wear dark colors in winter or light colors as well with jackets or coats. There are some colors and patterns for men to wear.
Colors always have a great impact on your personality. The color you wear reflects your personality so always choose the color that suits your personality. Pick up the color that compliments your skin tone. If you have dark complexion then you should wear dark colors but if you have fair complexion then light colors will compliment your skin tone along with dark colors.
When we talk about classic colors then the colors that hits us are blue, pink purple etc. These colors in different shades are perfect for a man if he want something classic. Cobalt blue and baby blue are also getting popular among men. Here are some colors with their meanings for men.
Purple:
Purple is the color that indicates creativity. It expresses power and power is always associated with a man. So grab this color to empower your self and purple color is also good for business meetings and presentations.
Orange:
If you wear orange color then it will show your confidence and out going nature. This color is usually of T-shirts or ties.
Blue:
There are many characteristics of blue color. It has variety of shades that expresses peace and introspection. If we talk about navy blue color, then it is the most acceptable color to wear and looks very elegant on television screen.
Green:
Green is the color of harmony and calmness and demonstrates credibility as well. In business meetings, olive green is best for you to wear.
Black:
It can be wearing as evening formal wear and is also perfect for architectural and advertising agencies. You will be a decent and creative personality on black color.
Just as colors, patterns of a suit are also important for men. Here are some popular suit patterns for men.
Solid suit:
The suit or outfit that consists of only color is called solid suit. It has no designs on it like checked patterns, windowpanes etc. the solid suit pattern is popular in different colors that includes charcoal gray, navy blue, white etc. This pattern is perfect for office wear and can also be worn with all sorts of accessories. You can match the shirt or tie of any design with it as it is versatile.
Pinstripe Pattern:
In this pattern, vertical lines running all over the outfit. The stripes are of medium width and thickness. You can wear this men pattern to look more formal and authoritative.
Checkered Pattern:
This is the most common men pattern that can be worn on social events like dates, weddings, and parties' etc. vertical and horizontal lines running all over the suit to create a unique looking pattern.
Plaid Pattern:
This is one of the fancier men pattern in the market. This is less formal wear and all sorts of accessories do not match with it, so be careful wile matching your tie or other accessories.