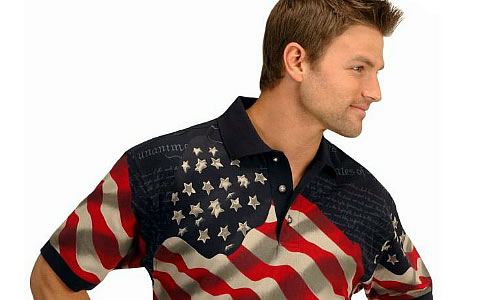 Patriotism means love for your homeland from the depth of your heart. For the sake of your country, patriotism urges you to go to any extent to serve your country. Patriotism is a passion that is meant to keep alive in our hearts. Hence, it's our responsibility to serve our nation and keep this patriotism alive in our hearts. If we serve our country sincerely, it will make our nation strong and honorable. One of the numerous ways to show patriotism is to wear patriotic pieces.
Following are the 5 Patriotic Pieces to Wear Now that have also become a trend these days:
1. Patriotic Shirts
Show off your patriotism spirit by wearing shirts that has either your country flag symbol on it. Or some poetic versus about your country printed in a fancy manner. These sort of patriotic pieces have become a trend these days. For instance, if you are from United Stated, you will often see people wearing shirts that have an American flag painted on it. References to the American flag have always made appearances in fashion.
2. Patriotic Scarf
To show off your true patriotism spirit, one can never deny the importance of a scarf. As one said that less can definitely be more. You can always wear a scarf with your country flag printed on it to either a beach or office. So, buy this scarf first to cheer for your country.
3. Patriotic Ipad Case
An Ipad case with your country flag painted on it not only gives a vintage look but also offers superior comfort and signature style. Moreover, it protects your Ipad from dust and other particles and also pays homage to your country. You can show your patriotic craze by using this accessory.
4. Patriotic Boat Shoes
Men can also show dedication to their country by wearing boat shoes. These are not ordinary boat shoes but either have a cultural symbol of your country or a pattern followed on your country flag printed on them. For instance, boat shoes with blue and red lines on them have become a trend in United States and also exude a clean-cut patriotic sensibility.
5. Patriotic Sportswear
Sportswear is one of the patriotic pieces that have become a fashion statement these days. Not only this, it also shows team spirit for your country. Add a cool spin to your look in summers by wearing sportswear that have your country's initial on it.